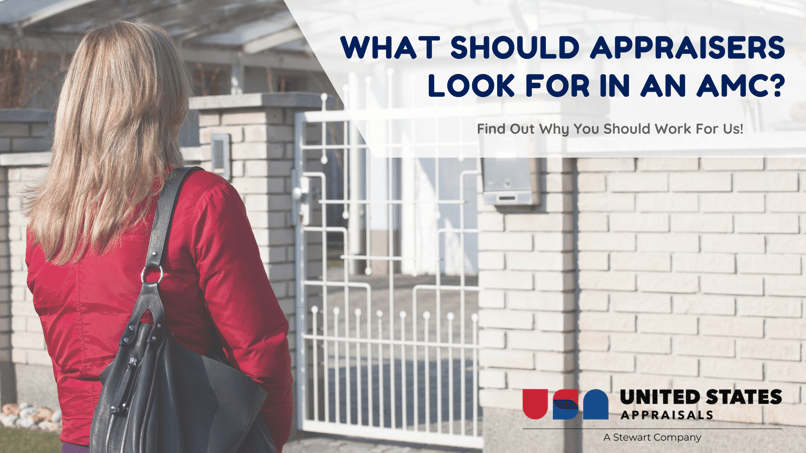 I used to know how many Appraisal Management Companies (AMCs) there were, but so many come and go; it's impossible to keep track. That leads me to an intriguing thought — Why? And, if I were an appraiser in today's environment, how would I navigate my options? What would I need from an AMC?

I'd want what we all seek — to maximize my income with the least amount of hassle and frustration. An enjoyable and reciprocal professional relationship.

It was a much different world before the days of HVCC and Dodd-Frank. Before this legislation, about 80% of appraisal assignments came directly from lenders and local sources. Today, it has flipped to the exact opposite. Therefore, engaging in the AMC model is imperative for most appraisers.

While not everyone likes Dodd-Frank, appraisers do benefit from it, for example:
• Only licensed or certified appraisers can be used for federally related transactions
• Appraisals must be conducted independently, free from influence and coercion (Hooray!)
• Mortgage lenders must compensate fee appraisers at a rate that is reasonable and customary
Choosing the Right AMC is Everything
Most appraisers work for several different AMCs, thinking more highly of some than others. As such, appraisers tend to accept assignments first from their 'preferred AMCs.' What typically causes appraisers to prefer a select few? In my conversations with our appraisal panel, the reasons are simple and straightforward, though incredibly important.
Appraisers want:
To be treated as the professional they are; relationship-driven
A focus on quality… over turn-time; though recognizing the importance of both
Fair compensation, in general; especially on complex assignments
Paid quickly, right after the work is completed
A hassle-free, consistent and streamlined process (easy to do business with)
Appraisers really do not like to have their work product torn apart by AMC review/staff appraisers, especially those with far-less experience. Requests for clarification and maybe a few corrections come with the territory. However, there is a tactful and professional manner in which to discuss appraisal reports and quickly migrate to mutually satisfactory reports. That's all that is needed.
Appraisers certainly understand that lenders and their AMCs want every report yesterday, but no respectable fee appraiser will cut corners for the sake of a deadline. We don't want that either, as it jeopardizes our lender relationships. It's about the balance of these two critical priorities. Fortunately, better technology can help, and certainly does here at United States Appraisals.
Appraisers generally understand that AMCs must constantly adjust operations to keep up with lender, federal and state-level regulatory and compliance requirements. Still yet, the best AMCs in the marketplace figure out how to comply without massive and constant changes to how fee appraisers conduct their work. Consistent and steady processes and workflows are paramount. Appraisers cannot dedicate a ton of time to AMC training and re-training. That just does not pay the bills!
Advice — Specifically look for AMCs with high quality and compliance standards, because most lenders recognize quality and are willing to pay for it, helping fee appraisers in the long run. Conversely, AMCs not demanding high quality may not survive long. You'll constantly be looking for new AMCs to consider. That does not pay the bills either.
Ah yes… the payment process. I'll be blunt and a bit boastful here. Let me know if you find any other AMC out there that pays EVERY WEEK. Here at United States Appraisals, we pay on Tuesdays for those completed reports meeting the cutoff date and time. That DOES pay the bills!
Additional Considerations
As you look to align yourself with the best AMCs in the marketplace, here are a few other aspects to consider:


• Ask around; your industry peers will generally speak freely
• Search the internet for complaints and feedback
• Does your state board have any registered AMC complaints?
• Training and reference materials to prop you up — latest and greatest info
• Options/Helplines for assistance or appraiser independence concerns
• Can high-quality appraisers expect a steady volume of assignments; Rewarded for quality?
• Technology—Technology—Technology!
Does the AMC continually invest in the tech and tools that simplify your life and deliver a more efficient and effective operational engagement? Technology is being introduced at a pace never before experienced in our industry. The best AMCs are committed to deploying it for their benefit. This almost always positively impacts their appraisers' panel, from initial order assignment methodology to pre-populated property details and benefits through the QC process.
In Summary
Here at United States Appraisals, we understand the power of choice. Lenders have a choice on which AMCs to use, and fee appraisers have the same opportunity to decide for themselves. That can be very liberating — when you choose wisely.

We steadfastly believe we are the wisest of choices. Why? Probably more than anything else, we pick the best fee appraisers the industry has to offer, and we treat them no differently than we do our paying clients. Both are essential in successfully running an AMC that has never had a client leave us. We know that our lenders and fee appraisers are the two pillars that are the very foundation of our structure. You weaken one of the pillars… disaster. You become another statistic in the column of the hundreds of AMCs that have disappeared.

If you answer 'YES' to each of the questions below, we want to talk to you
1. Are you disappointed with an existing AMC relationship?
2. Are you dedicated to high quality and compliance?
3. Want to hear why we added nearly 20 new clients within the past year alone?
Looking forward to hearing from you. Click Here to connect with us today.

Thanks for reading.